Er gwaethaf heriau'r flwyddyn ddiwethaf, mae'r diwydiant Bwyd a Diod annibynnol yn parhau i ffynnu yng Nghymru.
Ymunwch â'n panel gwych o gynhyrchwyr bwyd a diod Cymreig a fydd yn rhannu eu profiadau personol o'r heriau a'r cyfleoedd maen nhw wedi eu hwynebu ers sefydlu eu busnesau a dros y flwyddyn ddigynsail ddiwethaf.
Mae pob un o'n siaradwyr ar gam gwahanol o'u taith fusnes, rhai wedi hen sefydlu ac eraill wedi dechrau yn y flwyddyn ddiwethaf, ond mae pob un wedi mynd i'r afael â'r heriau heb ffwdan ac yn mynd o nerth i nerth. Ymunwch â ni i weld sut maen nhw wedi datblygu eu brandiau llwyddiannus, arloesol ac unigryw ac wedi addasu mewn cyfnod ansicr.
Caiff y sgwrs yma ei gynnal yn Saesneg.
Siaradwyr:
Myrddin Davies (Mentor, Cywain)
Ifan Beynon Thomas (Llaeth Beynon Dairy)
Geoff Miller (Cegin Caribi)
Beca Lyne-Pirkis (Cogydd, Cyflwynydd ac Awdur Bwyd)
Oes gennych chi gwestiynau ar gyfer ein panel? Danfonwch nhw aton ni o flaen llaw drwy ebostio digwyddiadau@amgueddfacymru.ac.uk
------------------------------------------------------
Despite the challenges of the past year, the independent Food and Drink industry continues to thrive in Wales.
Join our fantastic panel of Welsh food and drink producers who will be sharing their personal experiences of the challenges and opportunities encountered since establishing their businesses and over the unprecedented past year.
Each of our speakers are in different stages of their business journey, some are well established, and some have begun in the past year, but each have taken the challenges they have faced in their stride and are going from strength to strength. Join us to find out how they've developed their successful, innovative and unique brands and adapted in uncertain times.
This talk will be delivered in English.
Speakers:
Myrddin Davies (Mentor, Cywain)
Ifan Beynon Thomas (Llaeth Beynon Dairy)
Geoff Miller (Cegin Caribi)
Beca Lyne-Pirkis (Cook, Presenter & Food Writer)
Do you have any questions you'd like to ask the panel? Submit them in advance by emailing events@museumwales.ac.uk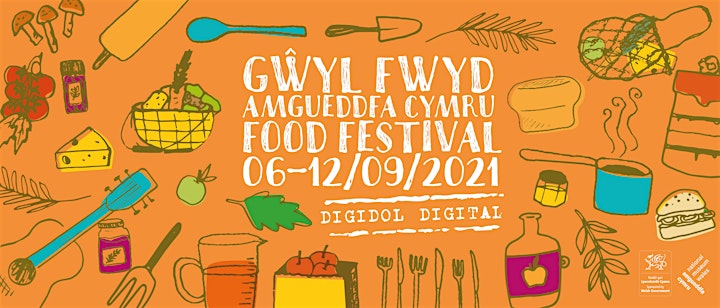 Mae'r digwyddiad hwn yn rhan o Ŵyl Fwyd Ddigidol Amgueddfa Cymru 2021.
Mwynhewch wythnos gyfan o weithdai, sgyrsiau, cerddoriaeth a sesiynau blasu – a'r cyfan o gysur eich cartref. Ymunwch â ni rhwng 6 a 12 Medi ar gyfer dathliad digidol blasus o ogoniant bwyd. Am ragor o wybodaeth ewch i'n gwefan.
--------------------------------
This event is part of the Amgueddfa Cymru Digital Food Festival 2021.
Enjoy a whole week of workshops, talks, music, and taster sessions – all from the comfort of your own home. Join us between 6 and 12 of September for a delicious digital celebration of all things food. For more information, visit our website.